CHARLOTTETOWN, PE – The Greater Charlottetown Area Chamber of Commerce launched PEI Network in partnership with the National Connector Program; a tried and true career networking program that is working in cities throughout Canada. The program is aimed at connecting  PEI's newest talent to the workforce through networking.
"PEI Network is an effective way to ensure new Islanders and new graduates are integrated into the business community," says Penny Walsh McGuire, Chamber Executive Director. "The Chamber is  pleased to present this program which supports labour market development in our province."
The program is a simple three-step process: match, connect and refer. Business and community leaders are matched with pre-screened participants. One match leads to one connection and referrals to three more connections. Participants repeat the process to create their own local networks of professionals, learn more about their field, identify job opportunities, get career advice, and become more rooted in their community.
"The PEI Network gives new immigrants and graduates a chance to better connect with their community and identify opportunities for work or business," said Economic Development and Tourism Minister Chris Palmer. "These kinds of connections greatly improve the likelihood new Islanders will choose to make our province their permanent home, open new businesses and fill key labour gaps in our economy."
"Our economy is stronger than ever and our population is growing quickly," said Workforce and Advanced Learning Minister Sonny Gallant. "PEI businesses are diversifying into new areas of activity so it's important to connect talented newcomers with the people who can help them build great long-term careers."
A 2013 Financial Post article suggests that 80 per cent of jobs in Canada are unadvertised, making networking essential to anyone starting or re-starting a career.
"Immigration plays an important role in keeping Canada competitive in a global economy. Helping newcomers to succeed in the Canadian labour market by building their network of contacts is essential. PEI Network will help keep talented people in the province by connecting them with fulfilling jobs in their fields, while addressing the labour market needs common across the Atlantic region," says The Honourable Ahmed Hussen, Minister of Immigration, Refugees and Citizenship.
The program will be rolled out across the province in 2018. For more information, please visit peinetwork.ca.
The Greater Charlottetown Area Chamber of Commerce serves as the "Voice of Business" on economic issues for close to 1000 members, representing more than 18,000 employees in small, medium and large enterprises in the capital region.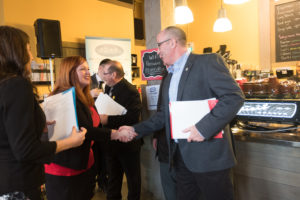 PHOTO CUTLINE: Alana Walsh, program manager (left) connects with Minister Chris Palmer, Department of Economic Development and Tourism at today's launch of PEI Network, a career networking program for new Islanders and new graduates. Also pictured connecting with graduates – Minister Sonny Gallant, Department of Workforce & Advanced Learning.