The Chamber is excited to welcome Anna Mallard and Fallon Mawhinney to the team for the summer.
Anna is going into her second year of studies at the University of Prince Edward Island. She is pursuing a degree in Business Administration with a specialization in International Business. Last year, she successfully completed a Co-operative Education placement at the Greater Moncton Chamber of Commerce. She was an active member in the Junior Achievement Company Program for three years and is currently the Event Coordinator for the newly established Rotaract Club of UPEI.
Fallon has taken on the position of Program and Marketing Assistant. Fallon is an English literature and Spanish language student at UPEI. Previously, Fallon has worked in communications and international relations, and she is very excited to put these skills to use with the PEI Network program/Greater Charlottetown Area Chamber of Commerce.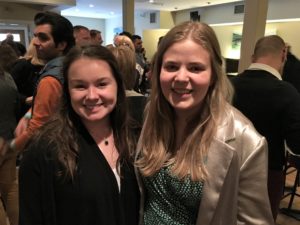 From left: Chamber summer staff Anna Mallard and Fallon Mawhinney