Dan MacIsaac named Chamber's Entrepreneur of the Year
The Greater Charlottetown Area Chamber of Commerce will celebrate Dan MacIsaac as the 2018 Entrepreneur of the Year at the President's Excellence Awards on Nov. 14.
"Dan's story underlines the pivotal role that entrepreneurs play in our economy and community," says Chamber President Jennifer Evans. "By focussing on local service and believing in the local market, he has developed award-winning businesses that now employ hundreds of people."
Dan MacIsaac was born in Sherwood, one of ten children to Leo MacIsaac, a dentist, and Rita, who worked as a nurse after the children were raised. In his bustling household, he learned respect, optimism — and the necessity of hard work. His first job took him to the nearby Belvedere Golf Club, where he hunted golf balls, caddied and cleaned clubs.
His subsequent journey to entrepreneurship did not take a conventional path. He studied arts at the University of Prince Edward Island, graduating in 1974. Recruited at university to work in P.E.I. for oil company Petrofina, he entered the industry that would define his career. After Petro-Canada bought Petrofina in 1981, he worked as P.E.I. manager and then as an Atlantic division manager in Halifax. He left the Island reluctantly, doing so on the condition he would be considered for Petro-Canada partnership opportunities in P.E.I.
That opportunity came in 1986, when he had the chance to buy the majority interest in Petro-Canada's Island business. He and his wife, Carilyn, put "everything on the line" to invest in his own business. The Kenmac Energy partnership began with a half-dozen staff and sales of 10 million litres of oil.
Over three decades, MacIsaac has expanded his business interests by focusing on staff, customer service and acquisitions. Bucking an industry trend to move to larger centres and reduce local service, Kenmac Energy added services and built customer relationships — emphasizing local. The company continued its growth by acquiring Souris Petroleum (1998), buying an interest in Noonan Petroleum in Summerside (2002), purchasing C&C Fuels (2006), expanding into propane (2009), and entering a partnership to serve New Brunswick (2015). Now as a Petro-Canada distributor for P.E.I. and New Brunswick, Kenmac Energy and partner companies sell 160 million litres of oil and propane a year and deliver another 102 million litres for other gasoline companies.
MacIsaac also developed the chain of retail gas outlets and convenience stores branded as Mel's. Beginning with a 1990 partnership in a Cavendish gas station he later bought outright, MacIsaac has expanded to ten Mel's in P.E.I. and Nova Scotia – again focussing on local service as a hallmark. Altogether, MacIsaac's business interests employ 300 people.
Kenmac Energy has won the Chamber's Excellence in Business Award (2015), and Kenmac and Mel's have received numerous regional and national Petro-Canada recognitions. MacIsaac has been an industry leader as one of the founders of the P.E.I. Petroleum Marketers Association, and he gives regularly to charitable organizations, including the QEH Foundation.
He is quick to credit others, especially Carilyn and staff, for his achievements: "If you don't have good staff, you're not getting any awards," he says. "I think it means we have accomplished a fair amount, and I think it means pretty much anybody can do it. All you have to do is have good people, look after the community, work hard and you will get your share. It's a reciprocal thing."
Sponsored by Provincial Credit Union, the Chamber's Entrepreneur of the Year Award recognizes the accomplishments and entrepreneurial spirit of an individual in the community. The executive committee selects the winner from nominations by Chamber members.
The Chamber's President's Excellence Awards, sponsored by Atlantic Lottery, take place Wednesday, Nov. 14, 6-9:30 p.m. at the Delta Prince Edward. Tickets are available at www.charlottetownchamber.com or by calling (902) 628-2000.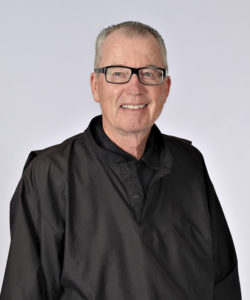 Photo: Greater Charlottetown Area Chamber of Commerce will celebrate Dan MacIsaac as the 2018 Entrepreneur of the Year at the President's Excellence Awards on Nov. 14.