The Greater Charlottetown Area Chamber of Commerce will honour Grace McCourt with the 2019 Volunteer Excellence Award at the President's Excellence Awards on November 21st.
McCourt has volunteered with the Chamber for ten years as a member of the Ambassador Committee. Chamber ambassadors are committed to attending Chamber events and making new members feel welcome by introducing them to others in the business community. McCourt has also been an active member of the Chamber since 2003.
"Grace has been a dedicated ambassador of the Chamber, committing her time to make others feel welcome in the community," said Chamber President, Dawn Binns. "It's volunteers like her who help make our Chamber and business community vibrant and we couldn't deliver the programs and services we do without this type of support."
With a 20-year career in the tourism and hospitality and education sectors, both in Canada and abroad, McCourt's experience includes positions such as Operations Manager with The Inn at Spry Point, Front Desk Manager with the Delphi Mountain Lodge and Spa, Ireland, and Corporate Sales Manager with Rodd Hotels and Resorts.
McCourt is currently the MBA Program Manager with the University of Prince Edward Island's Faculty of Business. Since 2008, she has worked with the Executive MBA program and in 2018, her position expanded to include the MBA in Global Leadership program. She is also a co-owner of Glasgow Glen Farm, an artisanal cheese-making business located in New Glasgow, PEI. She holds a bachelor's degree in Tourism and Hospitality Management from Mount Saint Vincent University.
The Volunteer Excellence Award, sponsored by Maritime Electric, recognizes someone whose time, commitment and contributions to the Chamber have been outstanding. The winner is chosen by the Chamber's Board of Directors' Executive Committee.
Each year, the Chamber holds the President's Excellence Awards to celebrate business excellence in the community. Sponsored by Atlantic Lottery, the awards gala takes place Thursday, November 21st, from 6:00 p.m. – 9:30 p.m. at the Delta Hotels by Marriott Prince Edward. Tickets are available at www.charlottetownchamber.com  or by calling (902) 628-2000.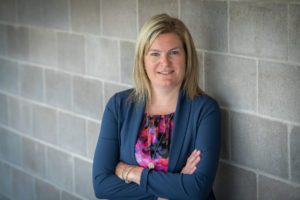 Photo cutline: Long-time volunteer, Grace McCourt was named the recipient of the Greater Charlottetown Area Chamber of Commerce 2019 Volunteer Excellence Award