Michael Thompson, co-founder of Odyssey Virtual, is the recipient of the 2018 Greater Charlottetown Area Chamber of Commerce Student Entrepreneur Award. Thompson, a full-time Business Administration student at the University of Prince Edward Island co-owns Odyssey Virtual with Evan Hawley. The award, sponsored by Air Canada, will be presented at the Chamber's President's Annual Luncheon on Monday, May 14, 2018, at the Delta Hotels by Marriott Prince Edward.
Thompson's entrepreneurial journey began at an early age. Whether he was mowing lawns, running a canteen or selling and trading items at school and online, Michael has always pursued different business ventures. In his second year at UPEI, Michael, together with Evan, co-founded Odyssey Virtual, a content marketing company that specializes in virtual reality technology providing 3D virtual tours specifically for touring buildings and properties.
"Odyssey Virtual has to be innovative to keep up with the rapid explosion of technology," says Thompson. "My business partner and I are continuously looking to expand and grow and we are humbled by the amount of support we have encountered including mentorship and advisory from both the university and the local business community. I'm honoured to receive this award from the Chamber."
This award reflects the Chamber's commitment to spark economic growth in P.E.I. by promoting and encouraging entrepreneurship. The one-time $2,000 award is paired with a one-year complimentary membership from the Chamber and a feature in the Chamber's Voice of Business magazine.
"Young entrepreneurs are critical to the growth and vitality of the business community in P.E.I. We need more young people, like Michael, to take risk and start a business," said Rory Francis, President of the Greater Charlottetown Area Chamber of Commerce. "On behalf the Chamber, we'd like to congratulate Michael on receiving this award and we wish him much continued success."
The Student Entrepreneur Award is presented each year to a full-time post-secondary student residing in P.E.I., who is also the owner of a business in the province.  A panel of judges reviews applications and interviews applicants to determine the recipient each year.  The Chamber will be accepting applications for the 2019 Student Entrepreneur award beginning in December 2018.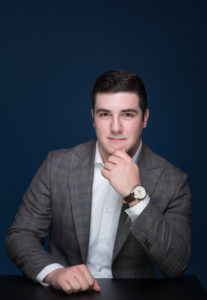 Co-owner of Odyssey Virtual, Michael Thompson is the 2018 Chamber Student Entrepreneur Award winner.